Taylor Swift praises Manchester's 'incredible resilience' as UK tour launches
9 June, 2018
Taylor Swift has praised Manchester's "incredible resilience" as she opens the UK leg of her tour in the city.
The star paused her show to remember the 22 people who lost their lives in a terrorist attack after an Ariana Grande concert last May.
"Concerts are supposed to be about innocence, and about joy and about excitement," she told the audience.
"And what happened just over a year ago in this city was an attempt to steal that innocence.
"Ever since then, you have shown such strength," she continued. "You've shown that you're never going to let anyone forget about those victims.
"You have such incredible resilience - to keep dancing, and to keep the innocence and to keep the joy.
"I just wanted to say, Manchester, is it such an honour to play for you tonight."
The star then played an acoustic version of the song Dancing With Our Hands Tied from her recent album, Reputation.
One fan captured the moment on camera and posted it to Twitter. Another said the speech "had me crying".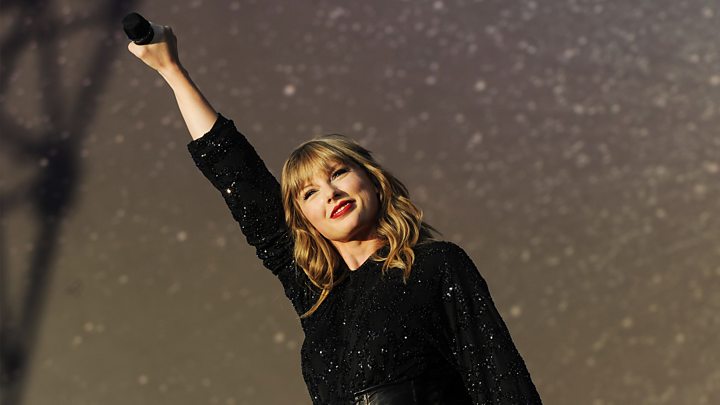 The tribute came about half-way through the 90-minute concert, which was the first UK date of Swift's Reputation World Tour.
The evening didn't get off to the most promising start, as ticketing problems caused a 30-minute delay - and left some fans unable to watch the support acts Charli XCX and Camila Cabello.
This did nothing to dull the atmosphere inside Manchester's Etihad Stadium, however, where fans were given LED wristbands that flashed in time to the music, uniting the audience despite lower-than-expected attendance.
Cobra style
From the moment Swift took the stage to the strains of Ready For It? the show had one overriding motif: Snakes. And lots of them.
Several inflatable cobras cropped up throughout the hour and a half-long set, while golden serpents slithered onto the big screen graphics, the costumes and even onto Swift's jewel-encrusted microphone.
The star has claimed the animal as her symbol ever since fans of Kim Kardashian spammed her social media posts with a green snake emoji during a very public falling-out in 2016.
The dispute arose when Kardashian's husband Kanye West made an unflattering reference to Swift in one of his songs.
Swift condemned the lyrics, but Kardashian hit back by posting a secret recording of the singer, which appeared to suggest she'd approved the song in advance.
Kardashian branded the star as dishonest, and it stuck.
This was the first time we got to hear about how the 28-year-old felt during the affair and also how she dealt with the backlash.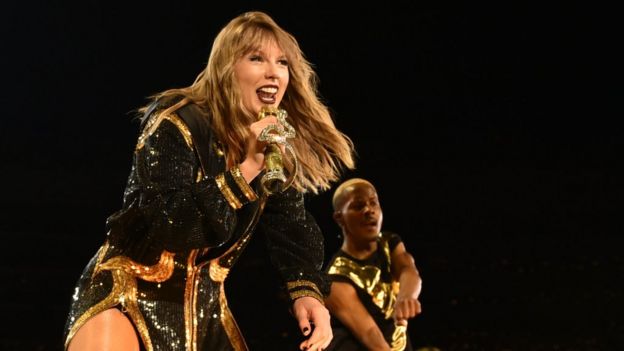 Of course, she was playing to an audience who were firmly on her side - so there was a resounding cheer during This Is Why We Can't Have Nice Things as she delivered lyrics that are widely assumed to be about West.
"Friends don't try to trick you, get you on the phone and mind-twist you."
But Swift didn't dwell on the drama - and, although the set list was heavily biased towards her new album, there was still room for a few fan favourites.
Love Story and You Belong With Me had fans singing back every lyric, even though some of them were younger than the songs themselves.
And classic relationship songs like Style and We Are Never Ever Getting Back Together sat comfortably alongside the newer tracks Gorgeous and I Did Something Bad.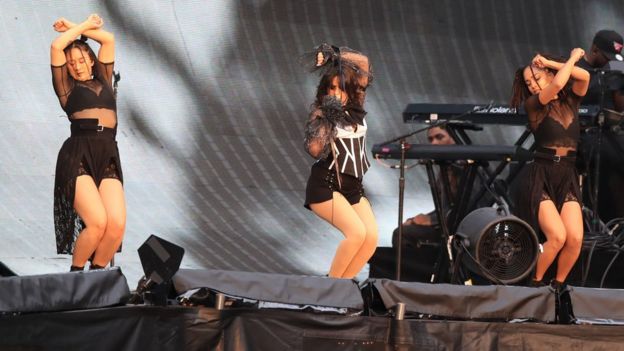 This is the first time Swift has embarked on a stadium tour in the UK. Her last visit, for the 1989 tour, was a much smaller affair comprising four arena dates and one headline appearance at the British Summer Time festival.
She made the transition look easy, though - splitting the stage into left and right halves so the whole 54,000 capacity venue got to see her up close (she also flew from one side to the other in a gold carriage and of course, a floating snake platform).
Some of the most memorable moments in the star's previous tours came during her acoustic numbers, which added some much-needed intimacy to the bluster of a large-scale arena gig.
So it was a pleasant surprise to see Swift continue the tradition - popping up at the back of the stadium to play stripped-back versions of Trouble and Dancing With Our Hands Tied, showing that she's still capable of captivating an audience with just a guitar and her voice.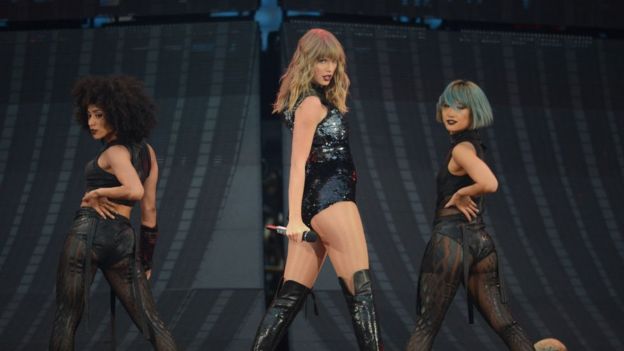 Loyal fans, who have witnessed Swift progress from innocent, teenage country singer to full-blown international pop megastar were thanked throughout the night.
Before playing the 2010 single Long Live, she acknowledged how many people had grown up with her music.
"It's so nice to see familiar faces in the crowd," she said. "Like, 'Cool - I know her profile picture!'
"Sometimes people say, 'I've been listening to your music since I was 12' and now they're like a full adult.
"I know that's how time works. I get it. But it blows my mind."