G7: Trump isolated over trade and Russia on first day
12 June, 2018
Divisions between Donald Trump and other leaders of G7 nations were laid bare on the first day of their summit.
The US leader made a surprise call for Russia to be readmitted to the group of top industrialised nations after its expulsion for annexing Crimea.
But German Chancellor Angela Merkel said EU members attending the summit in Canada were all against the idea.
Frictions over trade tariffs recently imposed by the Trump administration continued during Friday's session.
After meeting French President Emmanuel Macron, Mr Trump said they had a little test once in a while when it came to trade but, he added, they were working it out.
For his part, Mr Macron said he believed all sides were willing to find an agreement.
Reuters news agency cited a French presidential aide as saying the US had agreed to start a trade dialogue with the EU at a technical level in the next two weeks.
Divisions wider than trade
By the BBC's diplomatic correspondent, James Robbins
This summit started very badly - and it could end without the usual communiqué agreed by all.
Divisions between Mr Trump and the other six leaders go way beyond trade - they include climate change, relations with Iran and the Israel-Palestinian conflict.
Mrs Merkel is one of those arguing it might be better to set out those differences clearly rather than give a false impression of unity. It's more honest, she said, than pretending everything's OK.
Others still believe some sort of consensus can be found, and Mr Trump says he's hopeful of progress.
But there's no doubt about Mr Trump's isolation. He dislikes negotiating with groups, and he will leave well before the end of this G7 summit: next stop Singapore, to face North Korea's Kim Jong-un, and seek the sort of one-to-one deal he much prefers.
Mr Trump is leaving the two-day summit early to head to Singapore for his landmark summit with North Korean leader Kim Jong-un.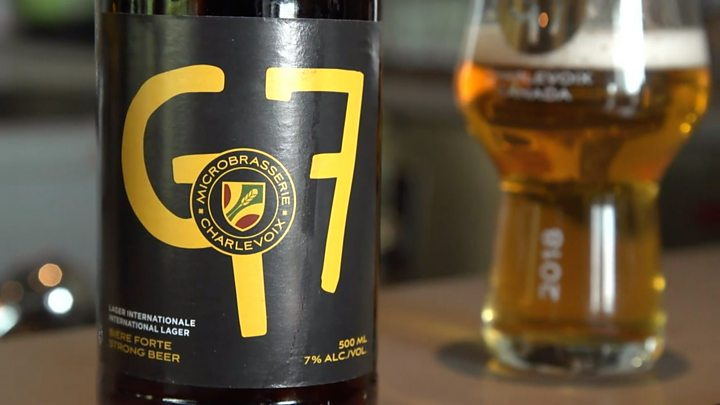 Canada had called Mr Trump's trade tariffs "illegal" while European Council President Donald Tusk warned that Mr Trump's stance on trade, climate change and Iran constituted a real danger.
"What worries me most however is the fact that the rules-based international order is being challenged, quite surprisingly not by the usual suspects but by its main architect and guarantor: the US," he said.